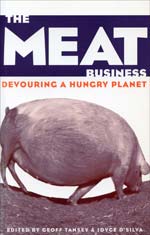 The theme running through this collection of essays is that food quality and human health, the welfare of animals and the methods of farming, and the quality of the environment, go hand-in-hand.
A full list of contents and authors is given below.
Now reprinted in Routledge Libraray editions: Food Supply and Policy Series in hardback and as an e-book.
Contents
Acronyms and Abbreviations
About the Contributors Editor's
Note by Geoff Tansey
Introduction by Joyce D'Silva

Part I Conflicting Visions
The Absurdity of Modern Agriculture: From Chemical Fertilizers and Agropoisons to Biotechnology - Jose A Lutzenberger and Melissa Halloway
Intensive Farming and Biotechnology: Saving People and Wildlife in the 21st Century - Dennis T Avery

Part II Whose Path to Follow?
American Agriculture's Ethical Crossroads - Michael W Fox
Future Agriculture: Giant or Gentle? - Christine Townend
Barons of the New Millennium - John Vidal

Part III Animal Welfare
Why I Do Not Eat Meat - Chris Mullin
An Agenda for Reform: Farm Animal Welfare in the European Union - Mark F Watts
Campaigning for Change in the European Union - Philip Lymbery
Farm Animal Welfare in Central and Eastern Europe - Janice H Cox
Factory Farming and the Meat Industry in India - Maneka Gandhi

Part IV Human Well-being
Feeding the World a Healthy Diet - Geoffrey Cannon
Towards a Sustainable Food Policy - Tim Lang
Part V Farming Threats and Opportunities
Genetic Engineering and the Threat to Farm Animals - Joyce D 'Silva
Genetic Engineering and Food Security - Julie Sheppard
The Global Contribution of Organic Farming - Patrick Holden
Beyond the Killing Fields: Working Towards A Vegetarian Future - Mark Gold
Part VI Trade, Welfare and Values
Trade Rules, Animal Welfare and the European Union - Peter Stevenson
Penalizing the Poor: GATT, WTO and the Developing World - Vandana Shiva
Sustainable Agriculture's Friend and Foe: the WTO - Hugh Raven
Multilateral Investment: an Agreement Too Far - Barry Coates
Human Values and World Trade- Atherton Martin
Conclusion:
Where do we go from here? Joyce D'Silva
Contact addresses
Index