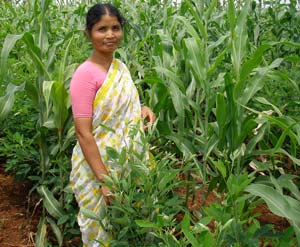 What we eat and drink affects our individual health. The way we produce our food affects the long term health of the environment upon which we depend. The kind of lifestyles we lead and the environments we create make it more or less likely people will suffer from having diets that do not nourish them well - either too little or too much. Ideally what is produced should connect with what makes for healthy diets. But too often it does not.
Hunger and malnutrition are still widespread today, largely but not only in developing countries. They increase people's vulnerability to shocks (whether natural disasters or a rise in food prices), weaken their capacity to produce food and/or to access affordable, nutritious food, and undermine health, as was discussed in the International Red Cross and Red Cresent Societies 2011 World Disasters Report on Hunger and Malnutrition.
Living with fear
Hunger and food insecurity involve not only a lack of sufficient food for a healthy life, but also living with fear about if and where the next meal will come from or if food will last through the lean season.
Even very wealthy countries have hunger problems. The USA, for example, spent an estimated $68 billion in 2010 to reach just over 40 million people through its Supplemental Nutrition Assistance Program (SNAP) - better know by its former name as 'food stamps'.
Malnutrition spreads
Malnutrition goes beyond hunger. At least a billion people lack key vitamins and minerals (have micronutrient deficiencies) while a staggering 1.5 billion people are overweight. Of these some 200 million men and 300 million women are obese. They are likely to suffer long-term, debilitating and costly health problems from heart disease, and various cancers to diabetes. This is a malnutrition of excess or overnutrition. It is not only a problem for rich countries or for the better off within countries but increasingly for poor countries and poor people within countries.
Even though farming has produced enough food to feed everyone over the past few decades, today's food system does not produce healthy outcomes for all. While what we consume affects our health, what influences what we consume has complex social, cultural and economic aspects.
No technological fix
The problems of continuing chronic hunger and malnutrition are deep-seated and not amenable to a quick technological fix. They are built into the very structure of today's global food system, and need political, economic, legal and social innovation to deal with them, and systemic changes if we are to create a well-fed world for all. That is why whether it is in looking at the relations between food and health, and healthy diets and food production business as usual is not enough.
Up close and personal - prostate cancer
My activities were disrupted by an early prostate cancer diagnosis in April 2008 and subsequent treatment (removal of prostate), period off work and then re-engagement over the first part of 2009. It lead me to a more personal investigation into the links between diet and cancer, some of which was broadcast on the BBC Food Programme in June 09.
I also wrote up some of my experiences. For more details click here