The Visionaries Award
In 2005, I won one of the six Joseph Rowntree Charitable Trust 'Visionaries for a Just and Peaceful World' Awards, which provided support from 2006-10. The Visionaries programme (pdf) celebrated the centenary of Joseph Rowntree's own vision to create a 'more peaceful and just world'.
Joseph Rowntree was a Quaker business man with a lifelong concern for the alleviation of poverty and the other great social ills of his day. He made a considerable fortune from the chocolate company which bore his name and in 1904 transferred a large part of his wealth to three Trusts, each designed to reflect and develop different aspects of his thinking about contemporary social problems. His intention was to 'strengthen the hands' of those working to tackle the root causes of inequality in society.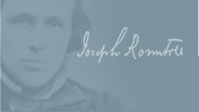 "JR drew on two principles that are at least as relevant today as they were then. The first was his conviction that all constructive religious, social, economic and political actions are in essence
indivisible. The second was his firm belief that substantial inherited wealth often proves both debilitating for its recipients and destabilising for society as a whole." according to his grand nephew Richard Rowntree. Click here to download a report about the Trusts.
The purpose that has guided the Trust's work over the last 100 years has been that of creating a more just and more peaceful society. Over the years, a wide range of work has been supported. It is underpinned by those concerns for truth and integrity, justice and equality, peace and conflict resolution which Quakers hold dear.
For an account of what I felt at the time click here